Here's your guide to where you can visit Father Christmas in 2017!
This year most of the children in Warwickshire don't break up until Friday 22nd December! A week or so later than usual. This means that a lot of school age children will be restricted to weekends to visit the big man! It's a good idea to book sooner rather than later as this year we will see weekends getting booked up sooner than usual. We have put together a listing of places to see Father Christmas this year with comments from Mums in our Facebook Group on their recommendations.
We will be adding to this listing on the run up to December as some smaller places add their dates later on in the season. If you have a favourite place we haven't listed, please do let us know here and we will update.
---
Coventry Transport Museum – Visit Santa! Vintage Sleigh Ride
Friday 24 November – Saturday 23 December
10.00am – 4.30pm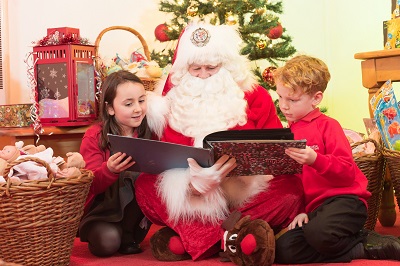 This Christmas make family memories to cherish! Join us for a magical ride on an enchanting vintage sleigh… Journey to Lapland on this magical moving ride, pulled by two trusty reindeer.  Meet Santa, tell him your Christmas wishes and receive a special gift.
After 60 years at the Co-op department store, Santa's Sleigh ride moved to Coventry Transport Museum and families can once again enjoy the magic and tradition of a visit to Santa on this extraordinary vintage ride. An experience like no other, the sleigh is uniquely nostalgic. Its original mechanics and fixtures have been maintained but unchanged since the 60s – they don't make them like this anymore!
This year we've introduced a timed ticketing system, which will reduce the amount of time you'll need to queue! While you're waiting to see Santa enjoy a drop in activity in our Christmas craft zone on selected dates. Just £2 per child with activities including card-making, snowflakes and ornaments. Find out more about the craft activities, storytelling and our Christmas trail.
Tickets
Children £5 / accompanying adult (up to two adults per child) £1.50. Entry fee includes a gift per child.
Adult (without gift) £4
Adult (with gift) £5
Please note:
Tickets cannot be bought over the phone or online. 
Early Bird sessions: 9.00am – 10.00am for people with learning disability such as autism. During these sessions the space will be adapted with a low sensory offer. Please call 024 7623 7521 to book or for further enquiries (weekdays only). Available on the following dates in December:
Thursday 7, Saturday 9, Sunday 10, Thursday 14, Saturday 16, Sunday 17, Thursday 21, Saturday 23
Late night opening: last admission 5:30pm, on the following dates in December:
Tuesday 5, Wednesday 6, Tuesday 12, Wednesday 13, Tuesday 19, Wednesday 20
Groups: we are very happy to welcome groups to the Sleigh on weekdays up to Friday 15 December and weekends up to Friday 3 December. Please call 024 7623 7548 to let us know you are coming.
Entry fee includes a gift per child.
Queues are expected particularly in the last week before Christmas and at weekends, please visit midweek and early weeks to enjoy a quieter experience. We reserve the right to close the ride at any time during busy periods.
Visitors in a wheelchair can be assisted to the sleigh and with the help of a carer transfer into the sleigh.
---
Magic Alley, Stratford Upon Avon
Recommended year after year in our Facebook group is Magic Alley, so many Mums commenting how real the experience is.
Our Mummy Lyndsey Says: "Magic Alley, Stratford is lovely, very believeable and involves the parents too. Parents receive a letter and children alike. Dates do full up quickly so if it's something you would like to do its worth booking sooner rather than later x"
Magic Alley's experience is over three floors where children can solve clues and are given a passport. They will then visit the real Father Christmas and everyone who visits Father Christmas receives a specially commissioned story 'The Frost Phoenix', to be read together as a family on Christmas Eve, and every child their very own Sleigh Bell. There is also a snow room to play in and make snow angels.
This is the one we are visiting this year! Availability is getting low already, please do book as soon as you can to avoid disappointment – Nikki 
Prices: £7/ £8 per person, depending on dates.
Or to book your tickets for your visit to see Father Christmas in 2017, call us 01789 290969
Visit the magic alley website here for more information
---
Sunday 9th December – Coombe Abbey Country Park – Santa's Grotto
Starting this weekend and every weekend after in December Father Christmas and his elves set up their winter Wonderland grotto at Coombe. Enter the elves workshop and make your own Christmas crafts with the elves to take home before meeting and receiving a gift from Father Christmas.
Various 30 minute session times available starting from 9.30am to the last session time of 3.30pm on the dates advertised only.
Visit www.coventry.gov.uk/coombeevents to book your place. Cost: £8.50 per child. Car park charges apply
---
Ikea Coventry – Father Christmas and his Grotto are back – IKEA FAMILY MEMBER EXCLUSIVE
Our Mums have been raving about this Father Christmas in our Facebook Group! There's great reviews on the Christmas trees too!
"Bring the little ones into store to meet Father Christmas himself, and he will even give them a small Christmas gift to take home with them to remember the occasion.
Join us in store:   Every weekend between 25th Nov-23rd Dec 12pm-4pm & Every Wednesday between 25th Nov – 23rd Dec 4pm-6pm
Our Grotto is located in our Christmas Shop on Level 3. It is free for children under the age of 12 and will receive one free gift only.
You can also have Breakfast With Santa
All information on the Ikea Website here
---
Christmas on a steam train! Severn Valley Railway
Our Mummy Nikki says "We went to the Severn Valley Railway last Christmas 2016, it was so lovely, we boarded the train in the most beautiful station, took the steam train and got off ready to see Santa, there was hardly any queue  and a brass band were playing carols. The children got a lovely large bear each. We then took a lovely walk to a small tea shop over a beautiful bridge before making our way back on the train. We then had a wonder around the free museum before heading home. The most wonderful day".
Santa Steam Specials
Get Christmas off to a magical start by joining one of our Santa Steam Specials to meet Father Christmas in his Grotto! 
Travel by steam train from Kidderminster to Arley where the children, and the grown-ups, will have the thrill of meeting Father Christmas in his grotto.

A present for fare-paying children completes the experience, before your steam train arrives to take you back to Kidderminster.

Santa Steam Specials operate on: December 2nd, 3rd, 9th, 10th, 16th, 17th, 23rd & 24th.
Prices start at Adult – £14.50 Child £14.50 Babies – £7.00 + £1.75 booking fee. Prices increase throughout December.
Santa Heralds
Get Christmas off to a magical start as you travel in the company of Father Christmas on our Santa Herald steam train to Highley. 
Join the steam train at Kidderminster Station for your journey with Father Christmas to Highley. Father Christmas will visit every child on the train, handing out gifts to each fare-paying child and posing for photographs. Don't forget to bring your camera!
You have guaranteed seats on your journey to and from Highley. Please note, you do not get off the train at any intermediate stations on the journey.
Santa Heralds operate on: December 19th, 20th, 21st & 22nd. 
Prices: Adult & Child- £17.00, Babies – £7.00 + £1.75 booking fee.
Visit the Severn Valley Railway Website here for more information and to book
---
Warwick Castle – Santa Sleepover & Breakfast with Santa
SANTA'S STATELY BREAKFAST
Santa is returning to Warwick Castle and is inviting families to enjoy a one-of-a-kind feast at Mr. and Mrs. Claus' very own private dining table set in the Castle's decadent State Dining Room.
Experience the festive magic of Warwick Castle an hour before other guests as Santa's elves escort you through the impressive Central Courtyard and towards the Great Hall, where Mrs. Claus waits to greet you. Once inside, tuck into delicious continental pastries as you take your seats in the resplendent dining room. Our special guest will arrive in time for the team of personal waiters to appear with your full English breakfast fresh from the Castle kitchen.
After breakfast, children can enjoy stories and entertainment with Mrs. Claus and the elves while Santa presents a hand picked gift to each child.
Tickets for this event are extremely limited and priced at £55 per person.
Dates: 25th & 26th Nov, 2nd Dec & 3rd Dec, 9th Dec & 10th Dec, 16th Dec VERY LIMITED SPACE AVAILABLE, 17th Dec SOLD OUT, 20th Dec, 21st Dec & 22nd Dec, 23rd & 24th Dec SOLD OUT
Santa's Stately Breakfast includes:
Personalised invite to Santa's Stately Breakfast
Full day admission to Warwick Castle and Grounds (excluding The Castle Dungeon)
Greeting by Mrs. Claus and Santa's Elves
Continental pastries on arrival
Full English breakfast served in the State Dining Room
Fresh tea, coffee, fruit juice and squash available throughout breakfast
Stories and entertainment with Santa and his Elves
Choice of hand picked gift from Santa for each child
Car parking in the Stratford Road Car Park
To book, please call 01926 406 660.
Santa Sleepover with Warwick Castle Breaks!
Available this year on 1st, 2nd, 8th, 9th and 15th —23rd December.
From £49.50 per person, you can enjoy a fabulous festive getaway which includes a host of treats for you and your family! Your Santa Sleepover package comprises of a delightful overnight stay in either a Knight's Lodge, a Woodland Lodge or a luxurious Tower Suite, as well as storytime with Santa in the Castle Library and an Elf-tastic wake up call, plus a gift for your little ones.
More information can be found here
---
Lapland UK
From Web: "LaplandUK is an original adaptation of the Father Christmas story and the secret world of the elves brought to life through a 4-hour immersive experience of unprecedented scale and quality."
Prices start at £65, and vary in price depending on which day you visit LaplandUK. For more popular days such as 9th and 10th December you're looking at £109 pp so do book soon to get the cheaper slots.
Our specially designed Superstar Days tickets are £55 and, new to 2017 is Magic Monday (27th November) priced at £49.
Address: Whitmoor Forest, Swinley Road, Ascot, Berkshire, SL5 8BD ( approx 1 hour 30 mins from Leamington Spa).
Visit the Lapland UK Website for more information here
---
Drayton Manor's Magical Christmas 
Our Mum Rebecca Says: "We went to Thomas land last year and my then nearly two year old loved it. He was more interested in the rides and the trains than Santa but still a lovely Christmassy experience which I would really recommend although maybe not for parents with young babies as it is nearly all outside and pretty cold in December!"
Thomas Land and selected family rides only will be open during Magical Christmas plus our 15-acre Zoo and our 4D cinema showing a BRAND NEW addition to Magical Christmas, Ice Age: A Mammoth Christmas.
Remember to visit the Castle of Dreams to see Father Christmas* where all children receive a FREE GIFT and also check out our Slide & Glide rink in the park as well. We have so much fun planned in Thomas Land, with over 25 rides and attractions, make sure you make the most of your trip and enjoy a ride on Thomas, a flight in Jeremy and so many other Thomas & Friends favourite rides.
For the first time in our 10 year Magical Christmas history, we are opening the park on Christmas Eve. Join us on Saturday 23rd and Sunday 24th December for an extra special Christmas experience, with more magic, treats and lots more family fun to be had on these two days, why not choose to join us on the final weekend before Christmas?
Under Twos – Free – Age 2 – 3 – £12.00 Age 4 – 11 £20.00 Age 12 – 59 £24.00
Visit Drayton Manor's Website here for more information.
Winter Wonderland at The Snow Dome
Our Mummy Sonia Says: "We go to The Winter Wonderland at Snowdome in Tamworth every year, kids love it xx"
"We went to Winter Wonderland with the children last year, they don't get to 'meet' Father Christmas but he's in the show and it's a brilliant day out, especially if you're looking for something different this year" Nikki 
Santa will be returning to the SnowDome this Christmas with his magical Winter Wonderland in the snow! As well as his reindeer he'll be bringing all of his friends for some serious festive fun the weather cannot spoil. With all the real snow, real animals and all new Winter Wonderland show. 
Approximatley 90 minutes duration, including 30 minutes playing in the snow and allowing 30 minutes to meet all the animals.
£13.95 per person on saver days
£17.95 per person on standard days
Children under 2 years go FREE
Available on all sessions, when accompanied by a paying adult. 

Extended Family Deal – bring the gang on a saver day and receive 1 free ticket for every 7 tickets purchased, i.e. get the 8th FREE. Only available by phoning 03448 000011.
Click Here to visit The Snow Dome website and to book 
---
Hatton Adventure World
Our Mum Sonia Says: "We go to Hatton every year too. Children visit Santa and receive a golden key which unlocks the toy shop and you can choose your own gift. They have reindeers too which my daughter loved! xx"
Enchanted Christmas Kingdom
Every weekend from 25th November – 24th December 2017 – PLUS Friday 8th December Evening and Weekdays 18th – 22nd December 2017
Visit Father Christmas in his Grotto and receive a magic key to unlock his workshop where children can chose from a huge variety of toys.
You can book online for a time slot and to save some dosh, or you can turn up on the day and pay on the door, discounts available to members to see the big man himself.
Prices start at £18.95 per child non-members and £9.45 per child for members. Adult members are free and non members £10.95+
Hatton Adventure World, Dark Lane, Hatton, Warwick, Warwickshire, CV35 8XA
For more information please see Hatton's Website here
---
West Midlands Safari Park – Santa Safari 
OPENING TIMES
Open weekends from 11th November and every day from 25th November to 24th December 2017.
Park Open: 10am (or 9am on weekends in December and from 16th – 24th December.)
Safari Open: 10am
Park Close: 4pm
Last Entry: 3pm
ADMISSION PRICES 2017
Adults (16+yrs) – £22
Children (3-15yrs) – £18
Under 3's – £6.50
Concessions – £20

Plus, entrance includes a Return Voucher or Safari Gift! (valid until  February 2018)
Visit West Midlands Safari Park Website for more details here
---
Santa Sleepovers at Alton Towers
Our Mummy Natalie Says: "Highly recommend the Santa Sleep Over at Alton Towers, totally magical Christmas Experience. We stayed in the Explorer Hotel which was nice and quiet as it was away from the hustle and bustle of the restaurants and water park. They put loads of treats in the room for my son and we wrote a letter to Santa on the day we arrived and the following morning Santa replied and put his letter under the door, my sons face was a picture. The actual Santa visit was fab, very realistic and good presents. Also the food was fantastic, was very surprised."
Each and every fantastical festive stay includes:
– An overnight stay in our fantastical accommodation.
– A unique visit to Santa (experience dependent on accommodation)
– Our fun-packed Pantomime, Jack and the Beanstalk
– A festive evening meal
– A delicious buffet breakfast
– One day Waterpark tickets
– One day Theme Park tickets with selected rides and attractions including CBeebies Land!
– Evening entertainment including character meet & greets, shows, a Christmas cinema and a farewell from Santa Claus!
Classic Santa Stay – Standard & Moon Voyager Rooms
Meet Santa in the heart of CBeebies Land with Santa's elves and follow them through Mistletoe Lane to Santa's Woodland grotto. Inside you will get to spend some quality time with the Big Man himself and have a photo with a perfect photo of Santa and the family.
Enchanted Santa Breaks – Woodland Lodge
Visit Santa in a magical teepee, on arrival children will be greeted with a hot chocolate, and grown-ups with mulled wine. Sing carols with Mrs Claus, make Christmas decorations with the elves and enjoy story-time with Santa in this fabulous group adventure.
Explorer's Santa Escape – Arctic Explorer Rooms & Themed Suites
Enjoy a morning feast prepared by Mrs Claus herself, there will be stories of Sir Algenon's adventures to the North Pole and songs from Santa's elves; culminating with an extra special visit from Father Christmas.
Click here to see more information on the Alton Towers Website as prices vary dependent on dates.
---
Hogarths, Solihull
Santa will try to see as many children as possible in his grotto. No presents are provided but gifts are available for you to purchase from the market stalls which can be presented to Santa's elves to give to your child. No booking required.
Please bring your own phones or cameras to capture the moment.There is a £2 charge to visit Santa which will be donated to local cancer charity, Help Harry Help Others.
More information on dates and times of the Christmas markets etc here
---
Twin Lakes Winter Wonderland
Opens 25th November 2017! Winter Wonderland opening times: 10am – 5pm daily. – All park tickets include visit to see Santa!
All standard child/toddler tickets include a grotto ticket to see Santa, you only need to purchase a grotto ticket with a complimentary ticket, annual pass or under 95cm (who enter the park for free). Only children need a grotto ticket, but the whole family enter the Santa grotto experience. Each ticket includes a toy from Santa, if all children in your family would like a toy from Santa then please purchase a grotto ticket.
This Christmas Twinlakes transforms into a magical Winter Wonderland with the best family Christmas Grotto in the UK. Join in the festive fun with tobogganing, gingerbread decorating, festive workshops, Christmas hunts, reindeer feeding, candy cane maze fun and games,snowball masterclass, sleigh school, letters to Santa, Father Christmas's office and post box, real log fires and mulled wine. A visit to see Father Christmas in his Christmas experience grotto includes golden ticket to choose your own special gift from Santa's Toy Workshop! Santa and his special friends will help make memories this Christmas. Lots of festive characters to meet and greet including Rudy the Reindeer!
See More information on Twin Lakes Website here
Wyevale Garden Centre, Stratford Upon Avon
Bring your Little Diggers along and enjoy a delicious, freshly-prepared breakfast or tea from the 18th Nov- 24th Dec.
Our event gives children and adults alike the opportunity to meet Father Christmas, decorate your own festive cookie and chose your very own present to take home. The perfect event to get you in the festive spirit!
The recommended age for this event is 3-8 years old, and all children must be accompanied by a supervising adult.
Children's tickets start at £10.00 (dependent on food option) and adult's tickets start at £4.50 (dependent on food option).
All information and booking details can be found on the website here and here  Stratford Upon Avon .