Welcome to What's On In Warwickshire
Easter Holidays 2019
Your guide to everything happening for families locally.
If you're looking for a holiday club or for our guide to Easter Egg Hunts in Warwickshire, just click on the images below.
Monday 15th April – Mini Arts Craft Session
Easter Holiday Family Fun Session for children aged 2 to 9 years
Monday 15th April 9.30 am – 10:30am & 10:45am – 11:45am Cubbington Village Hall £6 pp.
These are parent and child Easter theamed art and craft sessions aimed at 2yrs to 9yrs. Instructor-led class, includes all materials and refreshments for adults & children
The sessions are so much fun with several art and crafts to create based on the theme the ocean we will be painting, creating a collage picture and printing so lots of exciting pieces to make and take home.
Refreshments available.
Visit www.miniarts.co.uk
Easter Family Bushcraft at Ryton Pools Country Park
Saturday 13th April 2019 14:00 – 17:00 – £8
Come along this Easter and try to survive in the woodland. Have a go at shelter building, cordage making, fire lighting, and relaxing on a hammock before you tuck into a fire-baked jacket potato and fire-cooked marshmallow S'mores (dairy free option available). Learn new skills, laugh a lot and spend a day in the great outdoors.
Ratio 2 children to 1 adult, cost is £8 per head attending.
Please bring: Your own fillings for the jacket potatoes, a drink and a camping chair if you have one.
Suitable for families (Children aged 5yrs + )
Easter Fairy & Elf Adventure at Ryton Pools Country Park 
Monday 15th April 2019 – 10:30 – 12:00pm (1.30pm session also available)
Come and make a magic Easter willow wand and join the Easter Bunny on a magical mission to find the fairies Easter eggs. See if you can find the key to the magic kingdom and use some wishing magic to see if the fairies are about in Fairy Forest while keeping a wary eye out for those pesky goblins! If we succeed the fairies may let us share their Easter eggs! (Dairy free option available) 3 Years + £4.00
Book here for the morning session  
Book here for the afternoon session
Becketts Farm Easter Event 13th – 28th April 2019
Come along and welcome new chicks into the world and say hello to some of our other animal guests including lambs, ewes and donkeys!
The event will be held 13th April – 28th April on the Becketts Farm site. It will be under a covered marquee, so don't let the weather put you off.
Entry is £1 per person, and under 1's are free!* Click here for more information 
Holiday Art Club – Leamington Spa Art Gallery & Museum
18th April 2019 & 25th April 2019 – 13:30 – 15:30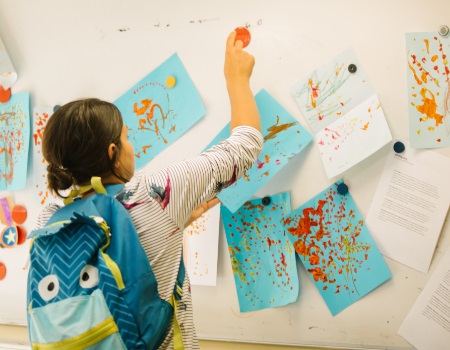 Every Thursday during holidays. Half hour sessions starting at 1pm, 1.45pm & 2.30pm
18 April
Make a clay nest with chicks
25 April
Make your own clay bunny
Suitable for children up to 12 years

Cost: £2.50 per child. Places are allocated on a first come, first served basis. Book at the Box Office in advance (card payments accepted) or on the day (cash only).
Meet the lambs at Hill Top Farm
18th, 19th, 25th, 26th & 27th April 2019
During the Easter holidays our lovely little lambs will be making some guest appearances at Hilltop Farm to meet our customers. They will be at Hilltop Farm on 18th, 19th, 25th, 26th & 27th April 2019 and will be available to hold and feed throughout each time slot.
This is a ticket only event and one ticket per person entitles you to entry into the lambing tent/area. Anyone who would like to come into the lambing tent/area needs a ticket. No ticket, no entry – sorry but we have to be strict with numbers to avoid over crowding.
Many tickets are already sold out so do book sooner rather than later if you're planning a visit. – Nikki
Click here for more information
Compton Verney Easter Trail
Fri 19, – Sun 28 Apr, 11am – 4pm
Search for hidden eggs around the park, inspired by the hand decorated eggs in our Marx-Lambert collection. To complete the challenge, you have to find the seven missing eggs from the gallery! Once completed, collect your chocolatey reward.
£3 per trail. Easter Egg Hunt maps are available to purchase from the Welcome Centre. BOOK NOW online or call 01926 645 500
Please note you will need a valid Membership, Annual Pass or Day Ticket.
British Motor Museum
6th – 28th April 2019
Join us for some 'Mini Madness' this Easter holidays. You can follow the Mini Trail, join our costumed Mini Mad Mechanic characters, Madge or Martin on a family tour, as well as design your own Mini in our air drying clay workshops!
Family Mini Trail – Back to the drawing board
Make a Mini using air drying clay
Meet our Mini factory costumed characters – Patsy and Victor
Family Tour with our Mini Mad Mechanic costumed characters
Belgrade Theatre
Wow It's Night Time
Tuesday 16th – Thursday 18th April 2019

The curious little owl is back in Wow! It's Night-Time, and this time she's ready to discover the wonders of night-time, from the big, bright moon to the bats in the sky and the foxes deep in the forest. But where are all the other owls? When the wind blows the leaves from her tree, you'll soon see.
Running time: approx 35 minutes followed by a 10 minute meet and greet with the puppet.
Age recommendation: 2 to 5 years Book your tickets here 
Pongo's Party – 
Saturday 20 April 2019
You are invited to a very special celebration, its… PONGO'S PARTY! – the show with a free Easter gift for every child!
Book your tickets & see more info here
Grandad's Island – Wednesday 24 to Saturday 27 April 2019
Syd's favourite person in the whole wide world is Grandad. And Grandad's favourite person is Syd. Join this intrepid duo as they head off on a heartwarming adventure filled with songs, laughter and jungles, which will change their lives forever.
Jill Murphy's – The Worst Witch – Wednesday 24 to Saturday 27 April 2019
Long before Harry Potter there was Mildred Hubble. An ordinary girl who found herself in an extraordinary place: a school for witches. Now in her final year, accident prone Mildred and her fellow pupils are about to embark on their biggest and most important adventure yet…
Warwick Arts Centre
Warwick Arts Centre have lots happening over Easter including the buildy-uppy dance show and a creative week,
Monday: Sculpture Making Day – Modelling and Carving, Tuesday: Tote Bag Tuesday, Wednesday: Drawing Day, Thursday: Sculpture Making Day – Casting, Friday: Sculpture Making Day – Constructing
See more details on their website here 
Newbold Comyn Leisure Centre – Swim or Clip & Climb!
Try out Newbold's Climbing wall for £12 a session in the holidays or perhaps it's swim fun you're after? Click here for more info on swim times & to book the climbing wall.
Mini Mornings and other films at The Vue Cinema – Leamington Spa

Children and adults go from £2.50 at selected viewings at Mini Mornings all year round. So if you're looking for a rainy day activity, it's possible to go without breaking the bank!
MINI MORNINGS AT VUE IN LEAMINGTON DURING THE HOLIDAYS ARE at 10:00 AM 
Click here for mini mornings listings, this week in Leamington Spa the movie is Bumblebee – PG
Redwings Horse Sanctuary

Open on Fridays, Saturdays, Sundays and Mondays only 10 – 4. Redwings is a lovely place to visit with the children where you can see horses and donkeys being looked after by the sanctuary. You can 'adopt' a horse and enjoy the small cafe and playground. Redwings is all outside so wait for good weather.
All Things Wild
* HAWKS OF STEELE * – 15th – 19th April
BACK BY POPULAR DEMAND, the fantastic Hawks of Steele Falconry will be joining us again this Easter.  Come and enjoy their amazing display and get close to their birds of prey.
Please note: Displays are on at selected times during the day.  Please see our itinerary when you visit, for up to date display times.
* WINGS OF THE WORLD * – 6th-28th April
Come and learn about the wonderful world of birds at All Things Wild this Easter, we have lots of fun planned!
Visit the website here for more info
Hatton Adventure World
Local Favourite Hatton Adventure World had to get a mention! Visit their website here
Spring Spectacular – Easter Holidays – Saturday 13th April – Sunday 28th April
With lots of new baby animals, Easter egg hunts, children's shows, tractor rides and plenty more family fun we'll help you have an eggsellent Easter!
Warwick Castle –
The Mighty Trebuchet Show
Horrible Histories® Maze
The Castle Dungeon
Winter Birds of Prey Show
The Bowman Show
Click here for more information
Easter Adventure Quest at Kenilworth Castle
Saturday 13th April – Sunday 28th April 2019 – 11am – 5pm
Join the hunt for dragon eggs on a legendary quest this Easter holiday. Crack the clues as you and your family follow the trail around the castle. Intrepid adventurers who track down the dragon egg will get a certificate to prove it, and there'll be a chocolate treat too!
You can get questing at Kenilworth Castle every day of the school holidays. It costs just £1 per child, and there's no need to book.
The quest costs £1 per child (member and non-member) in addition to the normal castle admission price. Under 16's must be accompanied by an adult.
Please note: some activities may change depending on weather conditions. To check the timetable, please call the site on 01926 852078 before your visit. Visit the website here for more information 
In need of some fresh air?

Here's our favourite places to visit to let the children scoot, bike or run, click for more information:
Do you National Trust? There's loads of local National Trust properties in Warwickshire, Baddesley Clinton, Packwood House, Charlecote Park , Coughton Court.
Thinking of getting a National Trust membership? Here's a top tip..
A family membership for two adults & up to 10 children BUT if you buy on the National Trust Scotland site here it will cost less and National Trust Scotland Membership is world wide, so includes all the UK properties, you can see the list here.
Run free at:
St Nicks Park, Warwick – With large playground, cafe, crazy golf, fun fair in summer months, skateboard ramps and a nice measured mile walk St Nicks is a popular choice. – Pay for parking.
Oakley Woods – Yes there's a cemetery there but park to the left and you can explore beautiful woodland for miles and miles, dog friendly and the seasons are stunning with snowdrops in winter and bluebells around Easter. Build dens, explore & remember your wellies! Free – no parking charge.
Victoria Park, Leamington Spa – Playground, sandpit for small people, skate ramps and a circular path perfect for biking, scooting and running off steam. – Free Parking
If you're heading to Victoria Park you can head over the road to Foundry Wood where you can spend an hour or so exploring woodland and watching the trains go by.
Ryton Poolsit's in our guide above but Ryton Pools deserves a special mention aside from the activities they run during the holiday, it's a beautiful place to visit all year round, again perfect for bike rides, it has two big adventure playgrounds a cafe and gorgeous long walks. Perfect for running off steam. Just pay for parking and enjoy.
Looking to travel for adventure?
You could try one of these:
Go Plane spotting at Sheldon Country Park, right next to Birmingham airport, the planes fly right over your head! Perfect place for a picnic in nicer weather and it also has a children's play area and cafe.
Salcey Forest – About an hour's drive from Leamington Spa, Salcey Forest is a Forestry Commission forest which has an adventure playground, cafe, long stunning walks with opportunities to off road, build dens and climb the stunning tree top walk with gorgeous views from the top. We love it because its dog, pushchair, bike and scooter friendly, Just pay for parking  £4 all day.
Cannock Chase Forest – Woodland walks, the Midlands best bike trails and adventure playground. Cannock Chase is highly recommended for a fun day out a little further afield. You can even Go Ape if you fancy extra adventure!
Looking for bigger days out, just click on the pictures below to visit the websites:

If you're looking for a holiday club or for our guide to Easter Egg Hunts in Warwickshire, just click on the images below.